Today I continue my series of the 10 best movies from each year in the 21st Century! I just couldn't wait to make the list until next week! 2001 was a year where Wikipedia was originally launched, the iPod was released, and everyone was freaking out about Anthrax. It was also a year filled with some amazing films. Trust me when I say, that I had so much difficulty making this list. So many wonderful dramas and comedies, along with the start of some remarkable franchises! Hope you enjoy!
Honorable Mentions: 
I Am Sam
Monster's Ball
Zoolander
Black Hawk Down 
A.I. Artificial Intelligence 
Oceans Eleven
Mulholland Drive
THE LIST
10. Training Day
I was torn between Mulholland Drive and Training Day for the #10 spot, but at the end of the day Denzel Washington's performance is too powerful to leave it off this list. The chemistry between Washington and Ethan Hawke is electric, the script is superb, and the direction is just down right gritty. A truly breathtaking movie that will leave a haunting impact on you.
9. Spirited Away
One of the smartest and most creative movies of the last decade, animated or live-action. This may seem low on my list and that's understandable, as this is universally praised. And don't get me wrong, I would never disagree with anyone saying this is the best movie of 2001, but for me I just was not able to emerge myself into this film due to the limited knowledge of the Japanese culture that is so beautifully exhibited in this film. A beautifully shot movie that is mature and emotional from start to end.
8. Harry Potter and the Sorcerer's Stone
I was tempted to put this lower on my list, but their is just something so innocent and wonderful about this movie. Forget the nostalgia for a minute and you will see that The Sorcerer's Stone is a wonderfully made movie filled with heart and excitement until the very end. I love the introduction to the characters and the last 20 minutes of the film have always been some of my favorite scenes in the whole franchise.  Yes, the other films become darker, more complex, and ultimately more complete films. At the end of the day though, this movie is a pure joy to experience and reminds you of just how special this whole franchise truly is.
7. Amélie
The most recently watched movie on this list, Amélie, was also the most surprising and unexpected movie I saw. This movie creates a spectacular and beautiful little universe that is mesmerizing to watch. It was a movie so heart-warming and unique, that you can't look away for a minute. A movie experience in the highest regard that gives you everything you want from a movie, especially some major goosebumps from how special it is.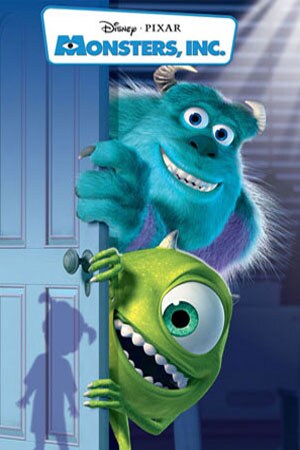 6. Monsters Inc. 
Another animated movie?! Another animated movie better than Spirited Away?! Yes, I know I know, I'm crazy. Hear me out though! Monsters Inc. is a work of beauty. It is one of the funniest Pixar films, Sully and Mike are two of the most innovative characters in the Pixar universe, and the story is just so incredibly creative and original. This movie has so much magic and innocence not just for kids, but for every viewer. In a constant stream of incredible Pixar movies, Monsters Inc. is able to firmly hold its own. And nothing pulls on the heartstrings quite like hearing Boo say "Kitty!"
5. Lord of the Rings: The Fellowship of the Ring
I'll be honest and might get a lot of hate for this, but I have never been the biggest fan of this franchise. BUT I am a fan of movie experiences, and boy does this movie give you such an incredible one. I respect everything this franchise was able to accomplish from the impeccable storytelling to the gorgeous cinematography. I will never be the biggest LOTR fan, but their is no denying just how amazing and special this whole franchise is, especially this one.
4. A Beautiful Mind
Russell Crowe, coming off an amazing performance in Gladiator, gives my favorite performance of the year in this remarkable film. Major props to Crowe who becomes fully immersed in his character, a nerdy and asocial mathematician, a year after playing a confident and hunky warrior. He carries the film along with a wildly engaging and emotional script. A simple and beautiful movie that made quite the lasting impact on me.
3. Donnie Darko
Man do I love me some Donnie Darko. Now one of the most popular cult films, Donnie Darko is a truly remarkable piece of film-making. Director, Richard Kelly (Darko was his first full length film, mind you) creates a stunning and disturbing film that truly stays with you long after. Jake Gyllenhaal is spectacular as always and gives this film so much darkness and a sense of hopelessness and I love every minute of it.
2. The Royal Tenebaums 
I'll be honest. This is not a film for everyone. Now I'm not saying that you have to have a certain sense of humor to understand and appreciate this movie. But in the same way that many people love Lord of the Rings more than anything else, I truly love The Royal Tenebaums more than anything else. The acting is outstanding, the direction is consistent and dazzling from scene to scene,  and the story is bizarre and odd, yet delightful and heartbreaking. This film is a pure cinematic experience. One that never ceases to leave a smile on my  face.
1. Moulin Rouge
I will always have a special place in my heart for this movie. My father has told me stories of how their was a period of time, I would spend most every day looking to see if this movie was on HBO. I was obsessed with this movie. Oh and I was 7. As bizarre and strange that may be, it's 100% true. Ever since I was 7 I have loved this film, and ever since then, my love for it has only grown stronger and stronger. It is unlike anything I have ever seen and contains some of my favorite movie scenes and moments in the past century. Yes I am a huge musical fan, and while the musicality elements of this movie are undeniably splendid, it's not my favorite part of the film. First and foremost, this is a movie about love. And when you combine the musical elements with a story of love, you got me hooked. Forever and ever and ever.
Well that's it! I hope you enjoyed it and make sure to comment below what were your favorite movies of 2001! See you next time as we talk about the best movies of 2002!